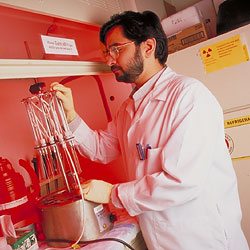 Although most serious American research universities promote and invest in the life sciences, only Tufts has a unique and powerful combination of prestigious professional schools in human, dental and veterinary medicine, renowned centers on nutrition, aging and biomedical science, as well as affiliations with Boston's world-class hospitals. Some of our key laboratories include:
The Biomedical Instrumentation, Imaging and Sensory Systems group performs optical imaging of biomaterials, cells and tissues, as well as working with optical tweezers, biosensors, and design of medically-relevant instruments for physiological diagnostics.
Tufts' Metabolic Engineering and Drug Discovery group performs pathway engineering and specializes in systems biology, drug development and testing, and disease epidemiology.
The Biomimetic Devices Laboratory is the focus of exciting interdisciplinary projects involving biology, engineering and computer science in order to develop new devices based on animal movements. Their work is having direct application in robotics as well as medical diagnosis and treatment.
To find out more about how your company can participate in Tufts' life sciences research and discovery, please contact: Corporate & Foundation Relations, (617) 627-3487.